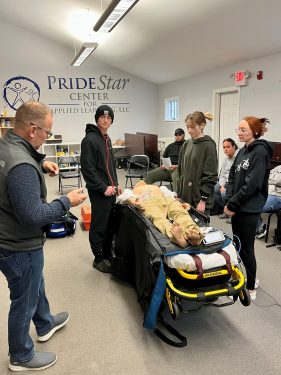 At Pridestar Trinity, we believe in the importance of emergency and safety education – not just for our staff members, but the community at large. We provide a variety of community and municipal education programs throughout our EMS service area. In an average year we successfully train thousands of individuals in CPR, first aid and EMS related topics. Custom programs can also be developed to fit your needs.
Current Course Offerings
Click here to see a full list of all courses.

Pridestar Trinity has been an affiliated with the American Heart Association as a Training Site since 2010. Over 100 instructors have chosen to align with Pridestar Trinity EMS. Some of the courses we offer include:
Emergency First Responder (EFR) training and certification
Cardiopulmonary Resuscitation (CPR) training
Automatic External Defibrillator (AED) training
First Aid training
Advanced Cardiac Life Support training
Pediatric Advanced Life Support training
Need a replacement CPR card?
If your card was issued electronically, click here to access the AHA eCard system. You will be able to view and print your card at any time.
If you received a physical course completion card, or if you are unsure what format you received, please contact our office at (978) 423-6774 or send us an email and we will be happy to assist you.
CPR, First Aid, and other courses designed for anyone who does not work in the healthcare field.
CPR, Advanced Cardiac Life Support, Pediatric Advanced Life Support, and other courses for Healthcare Providers