Trinity Manager Honored by Steward Healthcare
In celebration of National Emergency Medical Services (EMS) week, Steward Health Care hosted the third annual "EMS Stewards of the Community" award ceremony on May 20 at the Tirrell Room in Quincy, Massachusetts.
Dallas-based Steward, which operates nine hospitals across Massachusetts, recognized 19 EMS providers. Among these was Josiah Peters, Operations Manager, Trinity EMS. He was recognized for "going above and beyond" during the Columbia Gas fires in Lawrence in September of 2018, and serving the patients of Holy Family Hospital.
Eight working fires occurred simultaneously in the city of Lawrence and shortly thereafter, fires began to erupt in the surrounding communities of Andover and North Andover leaving little to no remaining emergency medical service resources in the area.
Josiah stepped into action, immediately sending 11 BLS and four transporting ALS ambulances, one non-transporting ALS ambulance, a rehab truck, several chair vans, and a bus to the emergency staging area. He manned the unified command center and assisted with tracking and assigning units to evacuate South Lawrence and surrounding highways, as well as manning ambulances at evacuation centers. Under Josiah's leadership Trinity transported 33 patients to Holy Family and other local hospitals during this event and transported many more to shelters.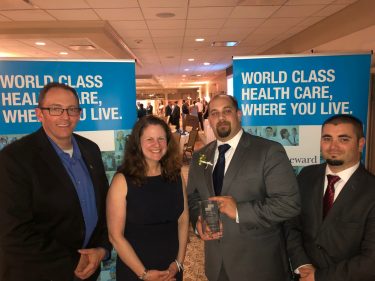 "Josiah's professionalism and leadership served the communities at their greatest time of need and uncertainty," said Craig Jesiolowski, FACHE, president of Holy Family Hospital – Methuen and Haverhill. "In a community wide emergency that was unfolding at a rapid rate, he exhibited the skill to respond and the commitment to care about the greater good. We are all better for his work and his dedication to his profession."
When Josiah was told he was being recognized as an EMS Steward of the Community for his actions during the explosion events, he was reluctant to accept stating "This was a team effort. I could not have done anything without the dedication of my caregivers who, at a moment's notice, came into work from home when they were needed most."
The "EMS Stewards of the Community" awards show appreciation for emergency medical responders, emergency medical technicians and advanced emergency medical technicians, and paramedics who not only carry out the noble work of caring for others, but do so with a high degree of expertise, professionalism, and compassion. An internal committee of physicians and EMS directors selected nominated recipients among current providers in communities served by Steward.
Massachusetts State Police Trooper Christopher J. Dumont, EMT-P, delivered the "Stewards of the Community" keynote address. Trooper Dumont helped save the life of Transit Officer Richard Donohue, who was shot by one of the 2013 Boston Marathon bombing suspects. Because of his heroic actions, Dumont received the Medal of Honor, the highest award given by the Massachusetts State Police